ALL 'ACTIVE' EMMAUS DIRECTORS
MEET AT
THE UPPER ROOM
SATURDAY, SEPTEMBER 30, 2023
10:00 a.m. - 2:00 p.m.
Please bring your own lunch and your
Code of Ethics

book (blue)
RSVP
This email address is being protected from spambots. You need JavaScript enabled to view it.

by September 20, 2023.
---
OUR ZOOM MEETING EMMAUS COMPANIONS GATHERED ON ZOOM FOR PRAYER AND PLANNING.
MONDAY, MAY 29, 2023 7:30-9:00 p.m.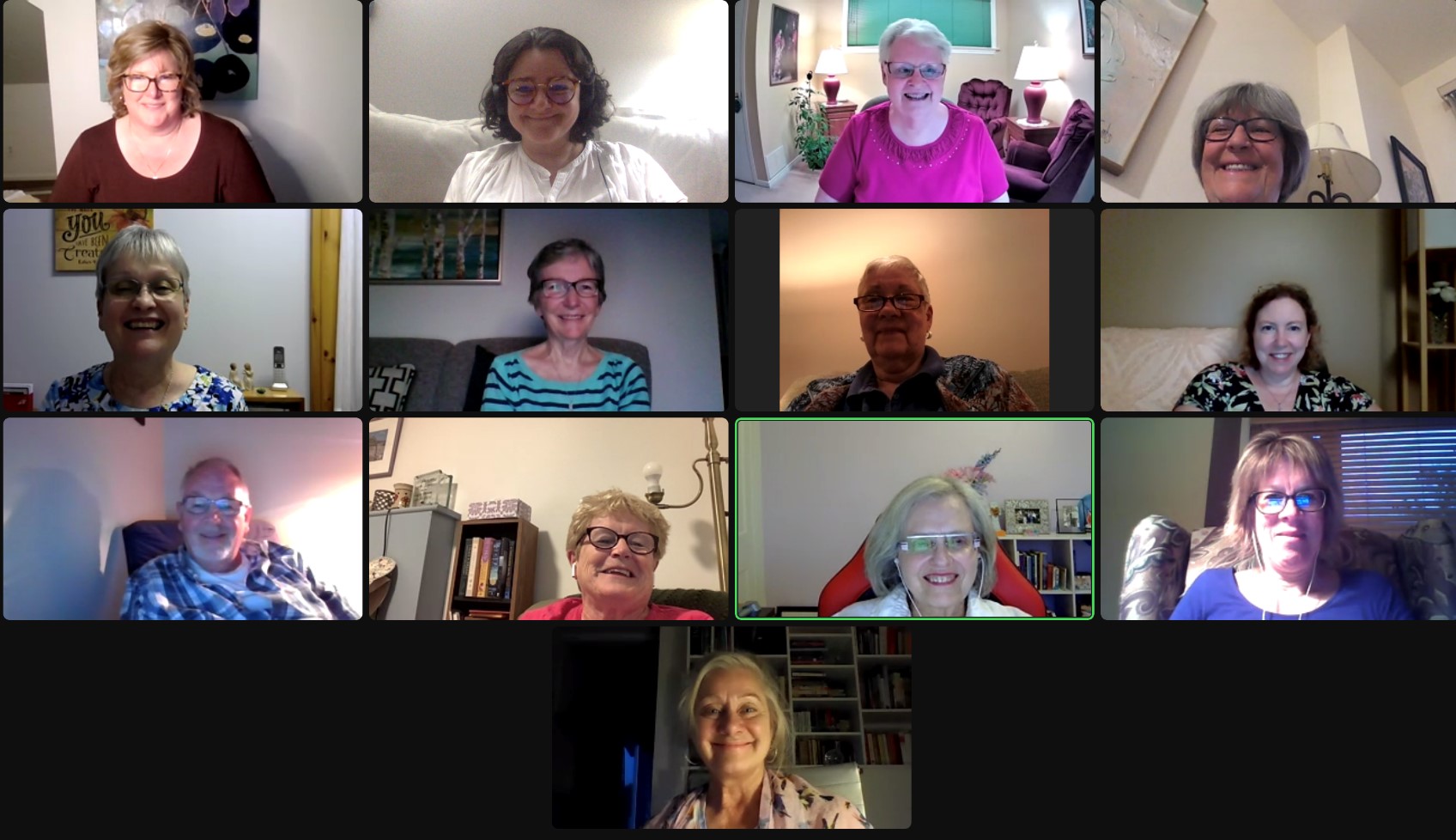 Top Row: Sarah Wayne, Henrietta Bruneel, Rosemary O'Toole, CSJ, Sharron Doherty.
Middle Row: Kathleen O'Keefe, CSJ, Elizabeth Charbonneau, Betty Ross, Stephanie Emmons.
Third Row: Daryl MacPherson, Margarett Gillis, Dianne Lupinska, Brabara Graham.
Last Row: Karen Lahaise
---
---
- Our 30th ANNIVERSARY gift to the city -
A "Future Full of Hope" BOOK series.
For four years (2014-2018), some graduates of our Emmaus Programs met at The Upper Room to assist me with the re-presenting of our core foundational teachings in new small book format that will be helpful for small groups in parishes or home study groups.
These interactive and 'working' Saturdays were a time to deepen and interiorize the spiritual truths that guide our practical choices in daily life. If Spirit continues to guide us, we will complete a library of these small books on different themes. We are happy to announce that over the last 4 years we have created and published EIGHT BOOKS in this Future Full of Hope series:
PURCHASE these books at The Upper Room Home of Prayer or on amazon.ca.
1. Discernment: A Way of Life
2. The Mystery of Divine Indwelling
3. Dying Well
4. Understanding False Self and True Self
5. The Spirituality of the Paschal Mystery
6. The 8-fold Path of A Spiritual Life
7. Contemplation and Dark Night of the Soul
8. Mary: A Contemplative Woman
---
Group photo of some of our spiritual directors on a Saturday Day of Enrichment
at The Upper Room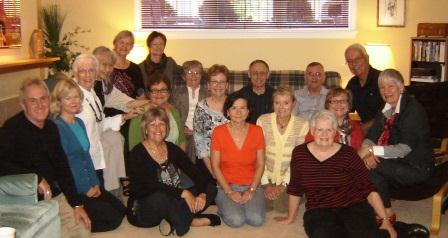 2012: Our EMMAUS COMMUNITY photo
Back: Louise Owens, Wendy Marshall, Elaine Gibson, Roger Amyot, Bro. Henry Arruda, Guy Brethour
Middle: Zony Wong, Debbie Camelin, Elizabeth Charbonneau, Fay Barber, Grace Amirault, Betty Ross
Front: Mike Doherty. Michele Melowsky, Beth Picard, Sharron Doherty, Coleen Hurley, Sr. Rosemary O'Toole
---