WHA

T'S NEW!
---
ZOOM SESSIONS
APRIL 3 BOOK INTERVIEW WITH DEBBIE CAMELIN

---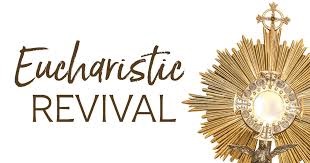 COMMUNAL ADORATION PRAYER
EVERY WEDNESDAY EVENING
7:30- 8:00 P.M. E.T.
ALL ARE WELCOME.
Join with audio and video off. No need to register.
For more information, suggestions and resources...
A EUCHARISTIC REVIVAL
began on Corpus Christi Sunday, 2022
and will end on Pentecost Sunday, 2025.
The Church is inviting us to become a Eucharistic people!
Join us when you can and experience the peace, healing
and comfort of resting in the Divine Presence.
---