Access our Medaille Online Forum from our website for 52 weeks of spiritual study and "sharing of hearts". Enjoy the journey embracing with depth and meaning the charism so dear to the family of Joseph.
Year One:
In 2008-2009 Sister Rosemary O'Toole posted a new Lesson every Sunday for 52 weeks of the year. All the Lessons are archived and you can access them at any time from your own home. Print out the Lessons with 10-12 pages to read and reflect upon during the week. All the members are invited to respond to the Weekly Questions by sharing in the online forum. At the close of YEAR ONE we were 1,107 members registered. We began a CHAT FORUM for the first Sunday of every month and these are archived online also. Join us at any time...
Here's how to get registered ... Click on the Medaille Online link below. You will be asked to Register creating your username and password. You will receive an e-mail to confirm that you are registered for the Medaille Online Course.

So be sure to LOGIN then and follow the directions from the site. All the Lessons and the "Sharing of Hearts" forum are all archived online. But please register NOW!
It's free…our 'pay it forward' gift of gratitude to God. Click on the link to Medaille Online to register now.
---
Year Two:
We invite new members to join us online this year and returning members to catch up with the Lessons that they may wish to continue throughout this year. No need to rush through the Lessons. We will keep checking for 'new posts'. We value the input and wisdom of our online community. It's been an awesome journey to share with this many dedicated seekers from 26 different countries around the world.
Pass on this web site link to your friends if you think they might be interested. All the members will be able to access any of the Lessons at any time. Everyone is invited to post a comment on any Lesson or in response to a post by another member. We will continue with the MONTHLY CHAT FORUM … meeting online for two hours on the first Sunday of every month. Members can suggest topics.
This year you are invited to participate in The Living Word forum that is accessed from our Home page. Sr. Rosemary will post a weekly Scripture reflection and invite comments and further sharing on the Word. Our communal ministry of contemplation is a profound action for the healing of the world community.
---
The Medaille Online Course - a CD of all the 52 lessons - for those who do not wish to work online but would like to follow the Course at their leisure at home or with their small community group. Cost: $25.00 each.
To purchase contact This email address is being protected from spambots. You need JavaScript enabled to view it..
---
Year Three: - June 2011 - published in Norwegian
Wonderful news! Arrived at our Home of Prayer in June, 2011. The Medaille Course now published! Thanks to the vision and generosity of the Sisters of St. Joseph of Chambery in Oslo, Norway, we now have the Medaille Online Course translated into Norwegian and published in these beautifully library boxed four volumes.
Set of 4 books on Medaille Spirituality now published... The complete Medaille Spirituality Course has now been translated into Norwegian. Thanks to the generosity of the Chambery Sisters of St. Joseph of both the Norwegian and Danish provinces, we now have these FOUR beautifully published set of library boxed books. Grateful for the many artworks of Sr. Mary Southard, that enhance the beauty of its pages.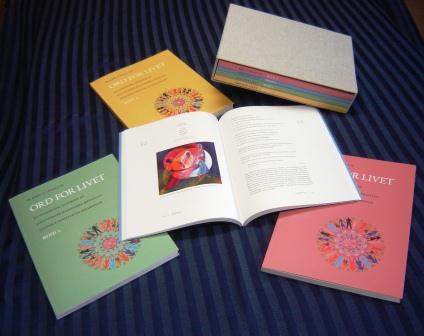 ---
NOVEMBER 9, 2019 ...
ENGLISH PUBLICATION: FOUR VOLUMES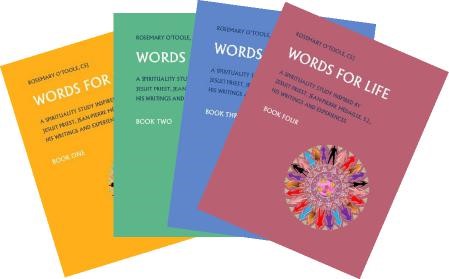 WORDS FOR LIFE:
A SPIRITUALITY STUDY INSPIRED BY J.P. MEDAILLE. SJ.,
HIS WRITINGS AND EXPERIENCES
Launch Gathering was on November 9th in Ottawa
Thanks to John Brooks of Discern Products, these 4 books
---